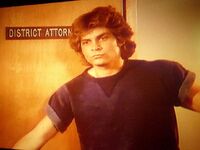 Rodney Williams was a friend of Pam Messinger and a fellow con artist. He would act like a menacing stranger to Pam in order to help her scam unassuming men out of hundreds of dollars. On one particular evening, Rodney played his part in order to scam Sid Fairgate, who was eventually accused of assault with intentions of rape and ultimately damaged his career at Knots Landing Motors.
In Hitchhike Part 2, The District Attorney summons Rodney in order to confirm his relationship with Pam. Rodney does admit that he knows Pam and despite her calling him a liar, Rodney reveals that together they would sometimes scam men out of money (when they were low on cash themselves), with him acting the part of a thug while Pam threatens to cry rape if the victim does not fufill her demand for cash. Rodney was portrayed by Ron Lombard.
Ad blocker interference detected!
Wikia is a free-to-use site that makes money from advertising. We have a modified experience for viewers using ad blockers

Wikia is not accessible if you've made further modifications. Remove the custom ad blocker rule(s) and the page will load as expected.