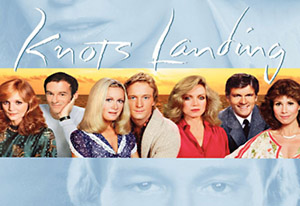 The following is a list of episodes from Knots Landing in order by season.
Season opens with Gary and Valene Ewing's move to Knots Landing, California from Dallas Texas. The pilot sees the introduction of series regulars: Karen Fairgate, Sid Fairgate, Laura Avery, Richard Avery, Ginger Ward and Kenny Ward. The series finale ends on a tragic two-parter centering around Gary's battle with alcoholism. Guest stars include: Karen Allen, Patrick Duffy, Larry Hagman, Charlene Tilton, Julie Harris, Claudette Nevins, Priscilla Pointer, Les Lannom, and Claudia Lonow as Diana Fairgate.
Season 2 of Knots Landing opened up with a two-parter (Hitchhike Parts 1 & 2) and introudced new series regular Abby Cunningham and her children Olivia Cunningham and Brian Cunningham. The season ended with a dramatic cliffhanger in the finale of the season. Guest stars include: Ruth Cox, Conchata Ferrell, Ron Lombard, Brian Dennehy, Mary Crosby, and Louise Vallance.
Season 8
Edit
Season 9
Edit
Season 10
Edit
Season 11
Edit
Season 12
Edit
Season 13
Edit
Season 14
Edit
Ad blocker interference detected!
Wikia is a free-to-use site that makes money from advertising. We have a modified experience for viewers using ad blockers

Wikia is not accessible if you've made further modifications. Remove the custom ad blocker rule(s) and the page will load as expected.